Start your journey!
The first Harry Potter book
Ready to begin your Hogwarts journey? Simply flip open the first Harry Potter book, or switch on your audiobook, and let's begin.
Start Chapter 1

"The Boy Who Lived"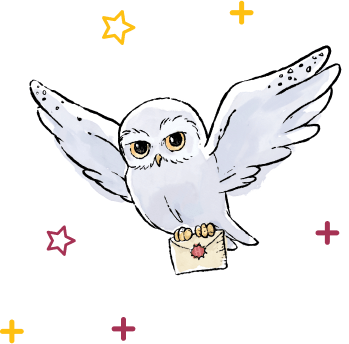 As you immerse yourself in the first story, join Harry as you discover the wizarding world together. Here, you'll find quizzes, puzzles, crafts and much more to help start you on your very first journey into the first Harry Potter book. Adventure and magic await both you and the Boy Who Lived – and we guarantee, once your imagination reaches Hogwarts, you won't want to turn back!
First of all, here's a handy guide and check list of everything you'll need.
What do I need to know about Harry Potter before I start?
That's entirely up to you! Although maybe you already know a few things. Yes, it's all about a young boy called Harry Potter who finds out he's a wizard and is invited to a school called Hogwarts to learn about magic. But we don't want to give too much away, there are so many secrets and things to discover within the wizarding world that you'll just have to find out for yourself!
And where should I get it from?
Easy! The Harry Potter books and audiobooks are available in all good bookshops, as well as online, and there are loads of different types to choose from including eBooks, audiobooks and illustrated editions. Enjoy this enchanting story in your favourite way.
Or why not borrow one from a library, or a willing friend or family member who has already had their wizarding education?
For now, here's the first chapter for free to get you started.
How long is the book?
The first Harry Potter book is seventeen chapters long, or if you're listening to the audiobook, that's about nine hours. About the same length as nine lunch breaks or a long sleep on a weekend. But of course, you can enjoy the story at your own pace.
Is it scary?
Sometimes! There are many good wizards and witches in the wizarding world, but also a few bad ones – and they are definitely pretty scary. However, there are also plenty of wonderful and magical things at Hogwarts. And Harry will always be with you guiding you along the way!
Start chapter 1!
Let's go through the checklist and unlock Chapter 1
But what happens when I finish the book?
Never fear. The second book, Harry Potter and the Chamber of Secrets has plenty more Hogwarts mysteries for you to help solve!
Finished a chapter? Take the quiz!